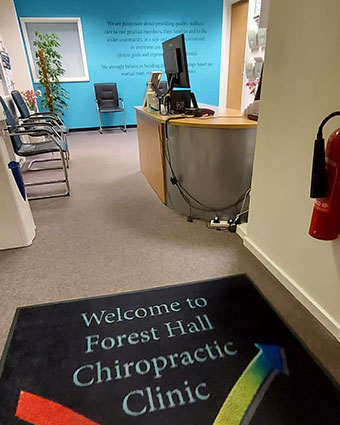 About Forest Hall Chiropractic Clinic
As Dr Jon Toward built his professional reputation as an associate not far from Newcastle upon Tyne and there were no chiropractors in town, he decided to open Forest Hall Chiropractic Clinic here in 2007. He is delighted to care for patients of all ages in our lovely community.
In addition to chiropractic care, our practice offers nutrition counselling, pregnancy massage, and Indian head massage.
Chiropractic As a Lifestyle, Not a Quick Fix
Our favourite types of patients are those who have a positive outlook and want to get better. They also understand that chiropractic care isn't a bandage solution to their problem, but rather a lifelong healthy lifestyle habit, much like diet and exercise.
Close Ties With Area Football Clubs
We've enjoyed serving as the team chiropractor for Newcastle United Football Club and Middlesbrough Football Club. Our doctors also have close connections with the Newcastle Falcons Rugby Club and several other professional football clubs. Many of these players seek our care so they can perform at their athletic best.
We Solve Problems. We Don't Treat Pain.
As chiropractors, we respect that the human body can heal itself, but when it can't heal itself, it does the next best thing and protects itself. "My job is to understand why your body is protecting you and not healing. And if we can find that underlying reason, then we can assist you," said Dr Jon.
MEET THE TEAM »
A Patient Success Story
One of our patients was a woman in her sixties diagnosed with arthritis 30 years earlier. She struggled to walk, play with her grandkids, and take walks with her husband. It took a few months of chiropractic care, but we got her to a point where she was walking again and going for walks with her husband. After nearly 30 years of taking painkillers and anti-inflammatories every day, she had her life back.
"Just because you have arthritis, it doesn't mean the arthritis is what's causing the issue. It just happens to be there, and there may be something else that's causing the problem," said Dr Jon. It's always worth checking to see if there's something else going on that we can address. "While we can't treat the arthritis, we can restore function to whichever part of the body and allow the body to heal itself," he added.
Book an Appointment
Discover how chiropractic care may help you. Contact us today to schedule an appointment!
---
About Forest Hall Chiropractic Clinic | 0191 216-1100